I use a lot of pre-hungs, but openings with doors wider than 36" (by-pass and bi-folds) are most commonly bought and installed in the various pieces and parts that make up any door. The door pic and added notes below come from
finishcarpentryhelp.com
. This is an example of one of the great sites out there that'll walk you through the process of hanging a pre-hung through step-by-step descriptions and videos.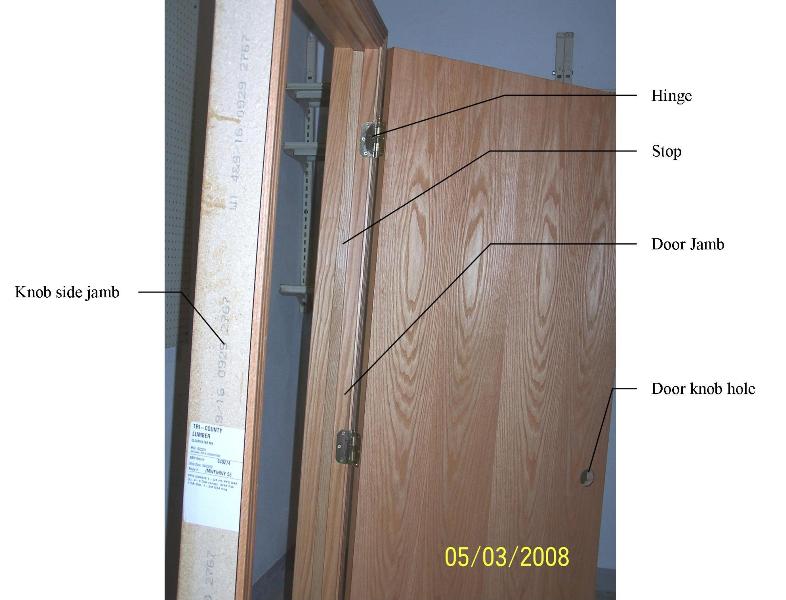 A pre-hung interior door bought at a building supply store or do-it-yourself chain will come out of the rack ready with all the parts (except the door knob).

It's worth mentioning that these various door peices have a purpose or origination beyond how they look. The wooden jambs frame the door and one side (see pic above) serves as the mounting point for the hinges/door. The stops and casing are nailed to these jambs. The stops do two things; they keep the door from swinging too far inside a room, but they're also significant because they create some privacy (visually) between rooms. The casing is also attached to the jambs. (Shown but not labeled in the pic above.) It trims the door system out and makes it look complete, but the biggest purpose of casing is to conceal the gap between the walls and the jambs.
A major feature (and easily taken-for-granted) of the pre-hung door is that the hole for the door hardware has been pre-drilled. However, the knobs won't get popped in just yet, they're a few other things that need to be done first and I typically don't even buy them until just before I am ready to put them all in (Step 34).
When I'm rehabbing an entire house, I like to get all the doors ready and start knocking them out one after the other. I need the same tools and supplies (i.e. - nails and shims) on each door and it's most efficient for me to go from one to the other and get in groove with the task until they're all hung.
As I mentioned above, closet doors have most of the same pieces, but a lot of times the stops are not necessary and the closet parts need to be shopped for and purchased separately. Bi-folds and by-pass doors are examples (as well as pocket doors.)
If you're not highly experienced in interior door work I'll encourage you to take some time to surf around and prep by spending an hour or so reading and watching an instructional video. Don't be too surprised if they make it look easier than it ends up being, but be ready to take your time in the beginning so you can really understand what you're doing at that first one before you build on that experience with the doors that follow your initiation. And, consider reading
If Necessary, Just Slow Down.