I love renovating extremely run down homes (aka
Pig's Ears
), but I also get pretty jazzed about other people doing the same thing. The Kitchen House at the Sutherland Mansion (Petersburg, Va.) is a great example of a building that was brought back from the edge.

Sutherland is a
Civil War Homestead
built between 1860 and 1862. Like many other homes of this era, the big house construction included outbuildings which are also referred to as
dependencies
. The Sutherland Mansion had two: an attached carriage house (lost in the tornado of 1993) and a detached brick structure that originally served as the summer kitchen. In the mid 1980's, a devastating fire made the 950 square foot Kitchen House inhabitable. Vacant and abandoned, it began to decay. City officials condemned the building and put it on the demolition list.  
I don't know Walt and Roberta Purcell, but I am a fan. They resurrected the Kitchen House into a charming home that's now a work of art. They saw the dilapidated dependency full of rot and debris (as well as birds and squirrels) and they took on the challenge. The Purcells realized the building was too special to overlook, understood it's potential, and made the most of what had stood the test of time.

Well done Roberta and Walt...a thousand times, well done.

The Bedroom - Before

The Bedroom - After. Excellent
The Kitchen - Before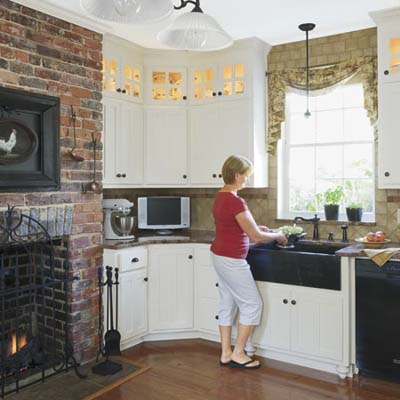 The Kitchen - After. Same fireplace on the left. More brick w/ shaker style cabinets & soapstone sink.

 

The Bathroom - Before.

The Bathroom - After
Living Area - Before

Living Area - After
(After pictures by Patricia Lyons, Styling by Sarah Hurst)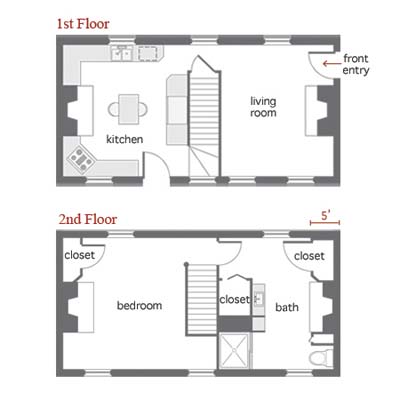 Floor plan by Ian Warpole
As I've written before, you
can
turn a pig's ear into a silk purse. It's not easy, but
it is possible
.
The Sutherland Mansion is owned by Roberta's son Greg Werkheiser and his wife Marion.